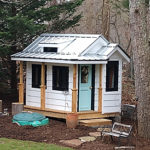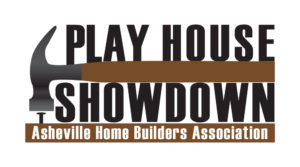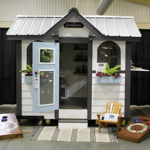 *Photos from 2019 Modern Farmhouse-themed Playhouse Showdown
How does it work?
Students in Buncombe County Career and Technical Education (CTE) classes design, build, and market a playhouse (this year's theme is Beach House).
Asheville Home Builders Association members donate materials and mentor the student-builders.
Playhouses from five Buncombe County Schools are judged and then displayed at the Build and Remodel Expo on February 1 & 2, 2020 at the WNC Ag Center Davis Arena.
Award categories are Craftsmanship and Viewer's Choice. Be sure to vote for your favorite home on display at the Expo!
Playhouses are raffled off to five lucky winners!
Raffle proceeds go to each school's construction classrooms and the Buncombe County CTE program.
Purchase tickets and support the schools
Anyone can purchase raffle tickets for a chance to win their very own playhouse. Proceeds from the tickets are reinvested in the schools' construction classrooms and Buncombe County CTE programs. Raffle tickets are $5 and include one admission into the Build & Remodel Expo held at the WNC Ag Center's Davis Arena on February 1 & 2, 2020. Raffle tickets can also be purchased on-site.
Winners will be drawn Sunday, February 2nd at 3pm and the winners will be contacted Monday February 3rd. You do not need to be present to win.
Click to Purchase Raffle Tickets
Learn more about the Asheville Home Builders Association's dedicated workforce development initiatives including scholarship opportunities, member job board, construction career paths, and more at
AshevilleHBA.com/Careers.
A special thanks to the following companies for donating their time and resources:
2020 Builder Mentors
AC Reynolds: Andy Presley • Enka: Brad Rice • Erwin: Hank Brian Anderson •  North Buncombe: John Judd Sr. • Owen: Jay Cope